Using PHARE, JOP, and E.C.I.P, we successfully concluded joint ventures in Malaysia, Singapore, China, Lithuania and Latvia during the last years.

In last months we completed two joint ventures, one for a company producing machinery for cutting marble, the second one for a company manufacturing machinery used for folding towels, sheets and napkins.

In both instances we have:
Selected possible partners for the venture

Conceptualized and finalized the project scope and timeline

Developed suppliers for parts not produced in country
Follow-up details included:
The project installation and construction of all tooling

The start up of the production and company organization.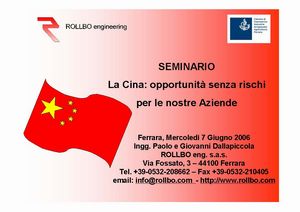 Seen our remarkable experience in the field, recently the Chamber of Commerce of Ferrara invited us to hold a conference in order to illustrate the investment opportunities that China offers, also pointing out the entrepreneurial risks. Seen the remarkable interest shown from the people that took part to the meeting, in the near future we will organise similar conferences to further discuss the argument.
We were recently asked by China Huanri Group - whose companies are already manufacturing Copper, Brass and Stainless Steel fittings, Faucets, Sanitary Equipments, Gas Tanks and Tires - to look for European that could have a potential interested in investing in a Joint Venture in China.